deWaard, Andrew. "Joints and Jams: Spike Lee as Sellebrity Auteur." Fight the Power!: The Spike Lee Reader. Eds. Janice D. Hamlet and Robin R. Means Coleman. New York: Peter Lang, 2008.  World Cat | Publisher's Website | Amazon | Full text pdf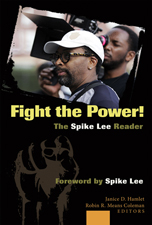 Abstract: The sellebrity auteur injects the consideration of commerce and celebrity into conventional theories of film authorship, highlighting the political economic factors in a film's creation and the struggle between art and commerce that this process involves, as well as the director's brand identity and celebrity cachet as it is exploited both by the director and the industry.  Spike Lee and his production company, 40 Acres & A Mule Filmworks, are emblematic of the way contemporary Hollywood filmmakers must be heavily involved in the business-end of film production in order to retain artistic control.  His skill at managing the Spike Lee brand name has resulted in his transformation into a valuable commodity.  From his ability to incessantly create controversy to his numerous and various commercial enterprises, Lee has exploited his celebrity in order to continue his prolific cinematic output.
Fight the Power!: The Spike Lee Reader has won the National Communication Association African American Communication and Culture Division's 2009 Outstanding Book award.